Wasn't school a drag. It is a long time since I had to go there but I still have some pretty awful memories of it. In fact, maybe I could make myself feel better and exorcise my school day demons by sharing some of the worst experiences.

For example, there was the ill fated day I broke some lab equipment. The really sad thing is that I wasn't even doing any sort of fancy experiments at the time. I was writing something and I had my backpack kind of swinging off my arm (as was the fashion in those days I believe). Before you could say "unstable liquids" a Bunsen burner near me had been knocked over and set off a chain reaction. I blame the teachers.
What harm could copper gutters possibly do? Well, a lot if your ball gets stuck in one of them. Of course, the problem is made worse when you start throwing stones at it to try and get it back down again. It would be really silly of you to do this when there are little children playing one the other side of the building, where most of the stones are falling. Oops.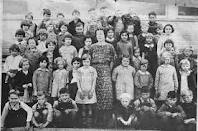 Did I achieve  a state of hair perfection during my school days? Certainly not. I clearly remember the day we were out running in a strong wind. My hair was getting blown about all over the place. I looked down at one point and my shadow looked like it belonged to the last of the Mohicans. I have had short hair ever since.
A guy who lived next to my school had a family of terrifying looking English bulldogs.  There is nothing wrong with that of course but the problem was that the owner seemed remarkably unconcerned about letting them roam among groups of passing schoolchildren. It was almost as though he enjoyed seeing the kids squeal in girly voices and run off to look for their mummies. Clearly I stood my ground and rarely squealed.