Isn't it amazing how many things there are to spend money on in a house? I mean, if I were an eccentric billionaire with a generous nature I probably wouldn't even know what to start with.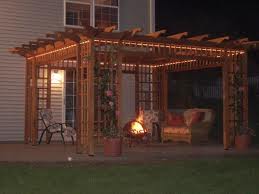 Thankfully I am an eccentric poor person with a frugal Scots upbringing, so it isn't usually such a big problem. Even so, I still come across things I would like to have too often for my liking.
For instance, I would like a pergola, and whatever pergola covers are I'll have a couple of them too. I love to sit out in the warm weather but the sun here is too strong for me (I know, it's a tragedy) so I end up burned to a crisp and with a sore head after half an hour.
Do I want canopy bedding and all that which this would entail? Yeah, bring it on. This is for a 4 poster bed, isn't it? Who among us can honestly say that they haven't hankered after one of these at some point in their lives? Come on, be honest. The closest I have come is when I slept in a hard, wooden bed with a mosquito net (which had holes in it ) over it, and I know that this isn't very close at all.
Some contemporary floor lamps sound great as well. My house isn't really all that contemporary right now. In fact, I would describe it as slightly outdated crossed with a soupcon of Little House on the Prairie and a hint of poor taste. If I could make it look modern and chic just be putting some lamps in it then I would be a fool not to really.
Finally, I know that sunroof installation is really for car but I wouldn't mind one above my bed as well. Maybe I could add in some wind down windows and a rear view mirror to turn it into a car themed bedroom. I always  wanted one of those car shaped beds when I was a kid and since I never got one I might as well live out my dream now.