I like to work with some music on and I suppose that I am far from alone in doing this. However, wouldn't it be great to have some music in the background for everything we do? What songs would I listen to for each thing though?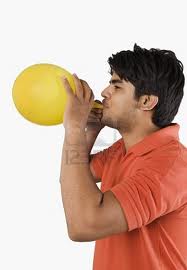 If I were involved in a hard day of, let's say, black mold removal, I would want something pretty upbeat. This kind of household job is guaranteed to get me down unless there is something fun in in the background. I don't know why but the Beach Boys spring to mind. A bit of Fun,Fun,Fun or that one about the girls in California might help me scrub up with a smile on my face.
My little girl likes to play with her cousins on inflatable games and in her inflatable pool. This is great. Except for one thing. Some fool has to blow everything up first. My lungs can't cope with anymore. At least not without some great music while I do it. I was thinking that a bit of heavy rock could get me going. I just listened to In A Gadda Da Vida for the first time in years and with this and then a bit of Smoke on the Water  I reckon that I will be puffing away merrily while moving my head in a rockish way. Any other suggestions welcome (for the songs, not the head movements)

My only previous experience with lab equipment came with a series of unfortunate Bunsen burner incidents at school. This is unlikely to change in the future but what music would I listen to if I still liked to mix unstable liquids to my fizzy drinks? Well, I think that a bit of the blues might go down well. I am a big fan of BB King's work and I reckon that his melodic guitar and distinctive voice might help keep my lab under control while I experiment.
Copper gutters are, well, useful I suppose. I had a guy in to fit some gutters a while ago and he listened to reggaeton music the whole time. If you have never heard of it then this is a horrible Latin music which should be banned from everywhere. There is lots of perfectly good Latin music around, so why anyone would want to fit gutters with this nonsense blaring out is beyond me.