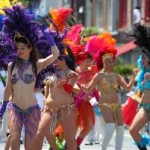 It is carnaval time here in South America. Woo hoo. It's all great fun except for, well, the fact that it isn't. Not to me at least. The idea of throwing water filled balloons at other grown adults and dancing in the rain while horrible music plays just isn't a lot of fun to me.
I don't want to seem like a spoilsport though, so here are some ideas for Carnaval 2014.
For a start we could get some mosaic art on the street. This would look especially appealing when the ground is covered in foam after a prolonged foam fight among the audience. Actually, we bought a tin of spray foam for our little girl and an old lady sitting next ended up spraying it all over the participants. She seemed to have a lot of fun doing it and I guess it beats sitting at home and knitting.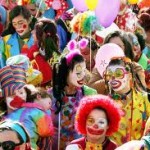 You might think that it is all sunshine and fun in the South American summer but it isn't . It can get pretty cold still and some electric fireplaces would be nice.  It was quite warm at the weekend but then a downpour soaked up even more than the foam had done. If you have ever watched a long and relatively pointless parade while dripping wet you will understand how underwhelmed I was by the whole thing. Still, at least we went to a restaurant to warm up and ate the best milanesa ever, so it wasn't all bad.
People are generally restrained when it comes to fashion and hair colors here but they all go a bit crazy at carnaval. There were more wigs on shows at the weekend that at a 1980s Elton John concert, and few of them could be described as classy or subtle.
As I have been writing this I have realised that next year I should try and enjoy the event more buy taking part in it. The participants go down the middle of the street with wacky on and in strange vehicles. I have an old metal bed frame I could maybe tart up and lie on it as I get wheeled down the street and watch the foam fly overhead.