I am not a big fan of the news. There I've said it.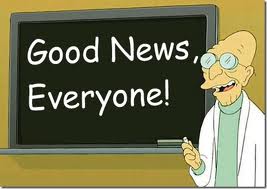 The news is pretty depressing really, isn't it? People die, wars start and the world runs out of oxygen and gets poorer every day. Actually. I am not sure the planet really is running out of oxygen but there is a good chance of it, as we are running out of blooming everything else. Anyway, in an attempt to make the world (a tiny bit) better I thought that I would post some alternative, happy news now and then. I have no idea how it will work out but let's give a try. Lights, camera, on air.
Someone in Bedfordshire got a great bargain today when they bought some cheap bedroom sets. The lucky purchaser, who had been complaining of a "slightly boring bedroom" decided to go for a fetching blue set of covers with some attractive flowers on them. It is thought a new pillow is next on the shopping list.
In a hilarious event today, a good natured Kentucky housewife realised that her outdoor canopy was actually even more useful than she had previously considered. After giving our reporter a lovely slice of cherry pie she stated that her pet dog used it for shade on especially sunny days (the canopy, not the pie). When asked what she planned to do the house next she said that she was planning on painting the windows. Green. Maybe.
There wasn't much news today in the world of landscaping ideas in Madrid, which is fantastic news for anyone who thinks that the old ideas are the best anyway and that there is no need to change anything anyway. Our on the spot reporter had a cracking lunch of boiled egg and cheese while speaking to one or two gardeners and stated that she was "feeling quite good". Next she will head over to see whether there is any word on new curtain designs being launched in Barcelona, although we really doubt it.
A few people took part in gee gee racing in Istanbul but all of the events ended in ties. There was a lot of good natured back slapping after the races and one participant even said that it was a "nice day".