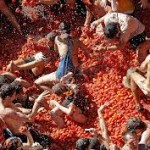 There are few things I like more than going to a festival. I have been to one where they throw tomatoes at each other, one where they roll cheese down a hill before running after it and one where everyone stands around looking at potatoes and nodding wisely. This last one was a bit disappointing if I am being honest but the rest were great.
So what type of festival would I organise if I had the chance to do so?
I really like the idea of candy mold event? We could have a competition for the weirdest candy mold on show and, well, lots of eating. I just looked up to see if candy festivals exist anywhere in the world and I can see one in Budapest and one in California, so it looks like I have been beaten to the idea. Still, mine will be better.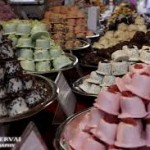 What about an eyeglasses repair festival? I realise that this might be a kind of boring day out for anyone who doesn't wear eyeglasses or who doesn't need them repaired. However, if yours are currently broken I bet that you would be tempted to go along for a couple of hours.
What on Earth would a refinishing cabinets festival be all about? To be fair, even that potato fair I was at a couple of years ago beginds to appear kind of exciting when compared to this kind of thing.
Now a road marking paint festival would be a lot more fun than the last one I mentioned, wouldn't it be? Who could resist the chance to splash some paint on the road along with thousands of other revellers? If this kind of event hasn't yet been tried then I will definitely give it a go. A quick look on Google tells me that there are, perhaps unsurprisingly, no such festivals organised anywhere on the planet yet.