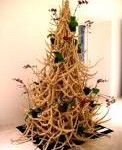 I used to see Christmas coming with a great deal of precision. The weird old guy who lived up the street from my parents would put up his creepy lights then the big shops would join in and it would be a free for all from then on in. Sadly where I live now even the weirdos don't seem to care about putting up their Christmas decorations. This means that it tends to sneak up on me each year.
Aren't Christmas trees great? I must confess that I kind of hate putting them up but once someone else has done that particular job I do enjoy looking at festive trees. We used to have a really bad silver one when I was a kid. It was all wonky and looked like it would fall over at the slightest breeze. It also had spindly little "branches" which looked incapable of holding up any ornaments.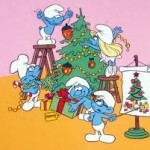 I would really like to get some skate sharpening done in time for Christmas. The idea of skating in a festive outdoor ice rink sounds great but it is something I have never done and here it tends to be really hot at Christmas. Maybe I could go swimming instead?
What I would really like for Christmas is a log cabin kit. I don't know why but I think that this would be a great way to pass the festive season. For some reason I think that that old spindly tree would look great in here. It must be about 40 years old by now but I wonder if my parents still have it in their attic next to my old Smurfs records and my collection of hideous jumpers.
Perhaps the best thing to do at Christmas is go for a pamper me day spa. After all, all this talk of talk of putting up trees and going skating can tire you out. It is better to put your feet up and enjoy a relaxing day.